For all who have asked me about pre-ordering A Bride for the Season, I am happy to say the book is available to order at these booksellers: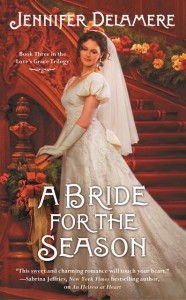 Barnes and Noble  (25% off list price!)
Books-A-Million (20% off list price!)
Indiebound – Support your local bookseller!
You will notice that Amazon is not on that list.  During their current contract negotiations with my publisher, Amazon is refusing to allow pre-orders of any of my publisher's books.  Also, if you see my books listed on Amazon as "usually ships in 1-3 weeks," be aware that Amazon will most likely not get around to shipping them in that time frame. Please consider buying my books from any of the other fine booksellers listed above.
With my sincerest thanks,
Jennifer Delamere