An Heiress at Heart releases today! If you've pre-ordered it for your Nook or Kindle, I hope you woke up to find it there this morning.
In honor of the book's release, I thought I'd show you some pictures, "scenes," if you will, from the book. The following are from the Great Exhibition. (For more details about this event, see my Extras page here.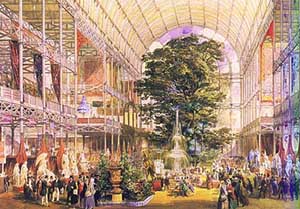 Here is the exquisite crystal fountain, 27 feet high and made of faultless pink glass, where Lizzie and Geoffrey have a meeting. By the way, did you know that fountain was the model for the famous fountain located at Forsyth park in Savannah, Georgia? (You can see a picture of that lovely fountain here.)
And here is a view from the second floor, where Lizzie looks down and spots someone from her past: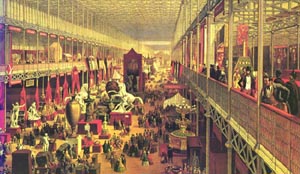 And here is a lovely photo of the bridge at Hyde Park, where another of the book's scenes take place. Wouldn't you like to take a stroll here?

I hope you've enjoyed this brief tour through An Heiress at Heart, and I hope you enjoy reading the book!
I'm giving away two copies of the book.  Simply leave a comment below, and I'll choose a winner on Friday.
Thank you for stopping by and celebrating with me!
Jennifer Delamere