Here is the cover for book 2 in the London Beginnings series, called
The Heart's Appeal. Isn't it gorgeous!!?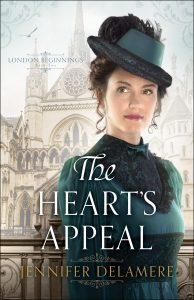 The heroine, Julia Bernay, is standing in front of the Royal Courts of Justice. Very fitting since the hero, Michael Stephenson, is a barrister. The Royal Courts of Justice looks a bit like a cathedral, doesn't it? But it's another example of lovely Victorian architecture.
Here's a bit of what the book is about:
Julia Bernay has come to London to become a doctor–a glorious new opportunity for women during the reign of Victoria. When she witnesses a serious accident, her quick actions save the life of barrister Michael Stephenson. He rose above his family's stigma, but can he rise to the challenge of the fiercely independent woman who has swept into his life?
Look for it on March 8, 2018!