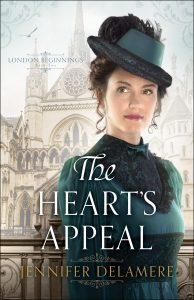 BOOKLIST says of THE HEART'S APPEAL: "The historical medical details Delamere provides add a fascinating overlay to the romance between dynamic, intelligent characters."
In The Heart's Appeal, Julia Bernay comes to London to attend medical school and become a certified physician, an occupation that has only recently opened up to women. When she witnesses a serious accident, her quick action saves the life of an ambitious young barrister named Michael Stephenson. It's only later that she learns he could be instrumental in destroying her dreams for the future. His latest case puts him in the middle of a debate over the future of the women's medical school. Michael soon discovers he's met a woman every bit as stubborn and determined to make her mark on the world as he is. Sparks fly—but will they find common ground?
By the way, the background on the book's cover is the Royal Courts of Justice in London. You can find other photos I used for inspiration for The Heart's Appeal, on my Pinterest page.
Happy reading!