So happy to share this new cover with you!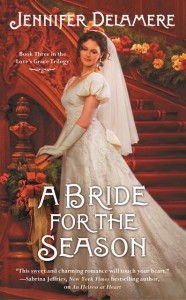 A BRIDE FOR THE SEASON
Lucinda Cardington doesn't care that she is close to being "on the shelf." She has more serious pursuits in mind and is perfectly content to leave dreams of romance to silly young ladies like her sister. Yet when her sister places herself in a compromising situation with London's most scandalous bachelor, the entire family's reputation comes perilously close to ruin. Suddenly Lucinda is in the limelight…and in need of a husband.
James Simpson's rakish ways have finally caught up with him. Snared in a scandal that for once is not his doing, he is forced to do the honorable thing and offer marriage to the lady. But her father won't agree to a dowry unless James can also find a suitable husband for the lady's elder sister—quiet, reserved Lucinda Cardington. As James gets to know the vibrant, charming, and passionate woman behind Lucinda's shy exterior, he comes to the distressing realization that he doesn't want her in anyone's arms but his own…
A Bride for the Season will be released this fall!