Like most bookworms, the library is one of my favorite places. This weekend I'll be visiting two libraries, hoping to connect with others who enjoy reading as much as I do.
On Saturday, Feb. 9, I'll be at the Montgomery County Library in Troy, North Carolina, for their "Red Hot Romance Reception."
On Sunday, Feb. 10, I'll be at the East Regional Library in Knightdale (Raleigh), North Carolina, with historical romance authors Erin Knightley and Regina Jeffers.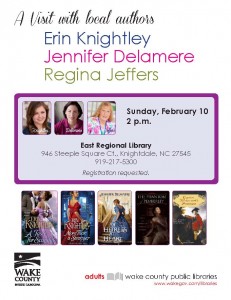 I'll be signing books at both events. For more information on times and library locations, see the Upcoming Events column on this page.
If you are near either library, I hope you'll come by and say hello!