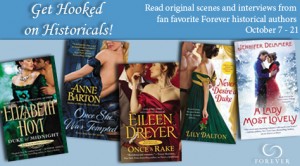 This week and next, I'll be participating in a fun blog tour to celebrate the release of A Lady Most Lovely.  I'll be joining four other Forever Romance authors who have recent releases as well.
For starters, readers voted on what kind of original scene they wanted to see from us. Here are the parameters they chose:
A young heiress heroine who is a mysterious brunette.
A titled gentleman hero whose usual expression is a dark scowl.
This couple has never met before.
The scene takes place in a bedroom.
Intrigued yet? I've listed the links to these fun scenes below, as well as the day they will appear.  Mine will appear on Thursday, October 10, on the Library Journal blog!
Then next week we'll be answering some lively Q&A's. I hope you will check it out.
Original Scenes:
Anne Barton- Publishers Weekly, Beyond Her Book Blog  10/8
Eileen Dreyer- Dear Author Blog  10/8
Lily Dalton-  USA Today's Happy Ever After Blog 10/9
Jennifer Delamere- Library Journal  10/10
Elizabeth Hoyt- Heroes and Heartbreakers 10/11
Q&A:
10/12 – Literati Literature Lovers
10/13 – Romancing Rakes for the Love of Romance
10/13 – Reading Between the Wines
10/14 – Book Binge
10/15 – The Romance Dish
10/16 – Happily Ever After Reads
10/16 – Romance Reader at Heart/Novel Thoughts & Book Talk
10/17 – Harlequin Junkie
10/18 – Fiction Vixen
10/19 – The Royal Reviews
10/20 –  BookHounds