I was tagged last week by fabulous historical mystery author Susan Spann to contribute a recipe to a virtual cookie exchange. (Be sure to visit her post for an amazing gingerbread recipe, as well as links to other participants in this tasty event!)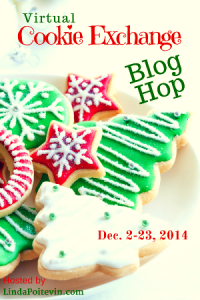 I am a few days late on this, but there is still plenty of time to enjoy this during the holidays!
For your snacking pleasure, I now present my best cookie recipe, which came down to me, as good recipes generally do, from my mother.
BUT BEFORE WE BEGIN…
You may balk at one of the ingredients, but I assure you it is the SUPER SEKRIT thing that makes these cookies extra special!
Ready? Okay, then.
White Chocolate Macadamia Nut Cookies
2 1/2 cups regular flour
1 tsp baking soda
1/2 tsp salt
1/2 cup (1 stick) of I Can't Believe It's Not Butter, softened to room temperature*
3/4 cup granulated sugar
3/4 cup light brown sugar
1 tsp vanilla extract
2 eggs
1 cup white chocolate chips
1 cup macadamia nut bits, or chop larger pieces in two (use raw, unsalted nuts only)
*I'm pretty much of a purist, and if you are like me, you are instantly thinking, "Well, I'm not going to use that. I'll replace this with REAL butter."  But if you do, I warn you they will not be nearly as good.  I don't know why. It's just one of those mysteries of the universe.
DIRECTIONS:
Preheat oven to 375 degrees.
Sift together first 3 ingredients; set aside.
In a large bowl, beat butter, sugars, and vanilla until creamy. Add eggs; beat well. Gradually add flour mixture, beating well with each addition. Dough may be soft; stir in a little more flour if needed. Stir in chips, then nuts. Drop by teaspoons onto lightly greased cookie sheets, allowing room for the cookies to spread as they bake.
Bake 9-12 minutes, depending on oven and how brown you want the cookies to be. The nuts will brown quickly, so you may want to turn the trays at the halfway point in baking.
A FEW HELPFUL HINTS:
If you prefer, you can replace the flour, baking soda, and salt with 2 1/2 cups self-rising flour.
All drop cookies work better if dough is chilled. If you don't have time for that, keep the macadamia nuts in the freezer (which is best anyway because of their high fat content), and stir them in frozen to chill the dough.
These cookies freeze well, if you want to make them ahead of time for a special occasion.
WRAPPING UP…
So there you have it! The secret recipe is out. If you make them, be sure to tell me how they turned out! And enjoy!
Wishing you a very happy holiday season and a happy new year!
Jennifer Delamere