Thursday, June 6, 2013
8-9 p.m. EDT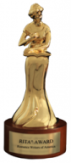 This Thursday, June 6, I'll be one of the featured authors on the RWA Video Chat Series: RITA® Inspirational Romance Finalists. We'll be discussing our books and taking questions from readers.
All you need to participate is a webcam and computer microphone.
Click here to learn more and register!