The Pub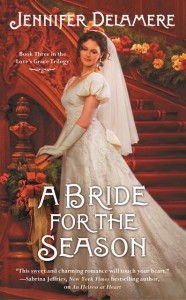 lishers Weekly review for A BRIDE FOR THE SEASON is out!
Here's an excerpt from their review:
"The scintillating Love's Grace trilogy conclusion (after A Lady Most Lovely) unearths the true character of one of the most roguish men in 1853 London…. The romantic dance between James and Lucinda sparkles with wit, intellect, and subtle desire in defiance of societal expectations."
I'm so excited–can't wait to share this book with readers!!!