Crossed Lines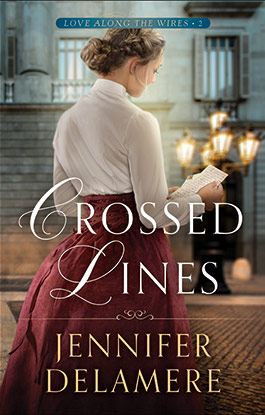 Love Along the Wires series, Book 2
August 2021
Bethany House Publishers
ISBN: 978-0764234934
Emma Sutton knows she should be satisfied with her position at London's Central Telegraph Office. But ever since she was orphaned young, she's longed for a family of her own. Things look up when an emergency at work throws a handsome engineer into her orbit and he later sends Emma the love note of her dreams.
Mitchell Harris's sharp wit and facility with a pen have enabled him to thrive despite serious obstacles. That the woman of his dreams works just one floor above his should make life perfect. But a childhood accident has left Mitchell convinced he'll never draw a woman like Emma Sutton's attention. When his best friend--who once saved his life--falls in love with Emma, too, and asks for help writing her love letters, Mitchell is torn between desire and loyalty.
Believing the writer of the letters is the answer to her prayers, but confused over her growing attraction to Mitchell, Emma's heart must decide where to call home.
"Delightful romance" -- Delamere delivers a charming adaptation of the Cyrano de Bergerac story in the enjoyable second installment to her Love Along the Wires series … Mitchell and Christopher's friendship offers plenty of insightful conversations about the nature of authenticity and humorous moments of misunderstanding as they try to win Emma over.
Publishers Weekly
Emma regarded him sympathetically. "Have you never been in love, Mitchell?"
He transferred his gaze to a sea gull that had decided to ride along on the boat's railing. "I have only been in love once in my life. I'm sorry to say the lady wouldn't have me."
There was a pause during which he could feel her looking at him. "What a pity," Emma said at last. "It's her loss, I should say."
"Perhaps I ought to have written her a love note. Do you suppose that would have made a difference?"
Although she couldn't understand the irony in his words, she must have heard the pain in his voice. "I apologize," she said softly. "My curiosity gets the better of me sometimes. Before I know it, I've gone treading on someone's toes."
He shook his head, brushing off her attempt at consolation. "Here's what I'm sure I would have written in that letter: that no mere fancy I had indulged in previously could possibly have prepared me for the moment when I first laid eyes on her. That any feelings of love I thought I had known before were as pale as starlight when compared to the brightness of the sun. That nothing would ever again fill my heart or senses so completely as the very sight of her. That no one else could send my thoughts into passionate flights while my heart stood still, immovable in awe of her. That nothing would ever taste as sweet on my lips as saying her name."
The sea gull, unmoved by these eloquent protestations of love, left its perch and flew off. The wind attempted once more to remove Mitchell's hat. This time he took it off his head, deciding to hold it on his lap until the boat had docked.
During these events, Emma said nothing. Mitchell finally got up the courage to look at her.
She was staring at him in wonder. "That's beautiful," she said, her voice barely above a whisper. "I think you might very well have won the lady if you had written such a letter."
©2021